Jura E8 Automatic Coffee Machine (Piano Black) with Glass Milk Container Bundle
bc967e8c5df73689e200191d3de02110f34f00278b3e27e55ad44c21e6552793-183672a3575631b9.jpg
aba31c1f795bb3b9e01123d245fa0473bc508211d480d1a367acba4ce1ca9a3e-253b13adff06ccd7.jpg
f5dc8b35715831d13e0e0113196a6c23e24e1b4a906bebbf911e2cb899e8ec27-974bd1a47a260132.jpg
5215d847ef5ce86a42074a950501434b19ef0f7a60e7df396716c0992bbca562-c947d4a253e132d1.jpg
635e09ad73eb0bec5d9e595fb4fc934309f84ce4dd2e7786ff0f4edf14e9ccc5-f9c9f3eee606b2bb.jpg
9290e0edbe7b82076dd6b4bb5673ea6a9f74fba6547bdf894641a3685aa6e45c-143b654978095c4f.jpg
2204d8f60288bbe903b6ed241274825f36aefe7d9c5d9ce0d7f81a6e4d09d216-dd9f5cfc25c60786.jpg
8bf7b7f551324024122b0137f7a953443e40c195cce7aabfa54b0f6e22ff22b3-ef20e5f9e04d7aae.jpg
Jura E8 Automatic Coffee Machine (Piano Black) with Glass Milk Container Bundle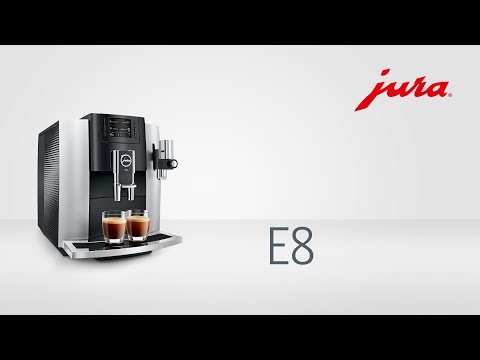 Product highlights:
64 ounce water tank capacity
15 bar high performance pump
Six-level aroma grinder
TFT color display
Easy, push-button operation
Jura Fine Foam Technology
Pulse Extraction Process (P.E.P.)
Intelligent Water System (I.W.S.)
Pure, luxurious, elegant and sophisticated design
Starting at $222/mo or 0% APR.
---
---
---
Need help deciding?
Contact us right now!
Call or chat with one of our experts.
In the box
Jura E8 (NAA) 4th Gen Automatic Coffee Machine (Piano Black)
Jura E8 (NAA) 4th Gen Automatic Coffee Machine (Piano Black)
Limited 2-Year Warranty
Jura Glass Milk Container
Jura E8 Automatic Coffee Machine (Piano Black) with Glass Milk Container Bundle
Coffee lovers rejoice! The Jura E8 Espresso Coffee Machine sets the bar high with impressive design and standard precision for outstanding results. Alongside a true and authentic tasting cup of specialty coffee, its exquisite design and quality craftsmanship brings luxury, elegance and sophistication to your countertop. This specialty coffee machine makes the perfect espresso, latte macchiato, cappuccino and more!
Jura E8 (NAA) 4th Gen Automatic Coffee Machine (Piano Black)
The latest generation of Jura's most successful E8 coffee machine model offers a reinterpreted design and a range of benefits previously found only in the premium class machines. The innovative E8 offers 17 different specialties from aromatic espresso to trendy cortado, and can also prepare long, mild specialties to professional barista standards thanks to a new fluid system with a dedicated hot water spout. With the exclusive Extra Shot function, those who like their coffee more intense can easily pep up their cappuccino, flat white, or latte macchiato. The optimized fluid system even offers one-touch cleaning of the milk system for ease of use and operation. With the E8, you'll get the Professional Aroma Grinder that delivers flawless results, state-of-the-art brewing technologies that allow coffee aromas to fully develop, and specialty coffees that are better than ever thanks to the airy, feather-light milk foam.
First-Class Coffee Quality
The Professional Aroma Grinder guarantees 12.2% more aroma and consistently high grind quality so that flavors unfold to perfection throughout the entire service life of the grinder. The Pulse Extraction Process (P.E.P.) ensures maximum flavor for short specialties, while intelligent preheating guarantees the ideal temperature right from the first cup.
Luxurious Operation
A 2.8-inch color display, six buttons, and a completely new operating concept featuring artificial intelligence enable simple handling. An intelligent algorithm identifies individual preferences and adapts the start screen, so the user's two or four favorite specialties are always displayed. Product settings and their positions on the screen can be adapted in line with personal preferences and product names can be displayed or hidden. All relevant information regarding the coffee machine as well as pending care instructions is presented clearly in the Cockpit via the display.
One-Touch Milk System Cleaning
The sophisticated milk system cleaning process takes place automatically at the touch of a button and is completed in no time. The drip tray also meets the highest ergonomic standards. Its design prevents water from spilling, and it can be removed conveniently with just one hand.
Harmonious Design
This JURA coffee machine features a clean and expressive characteristic design. High-quality materials and precise craftsmanship underline the premium quality of the modern E8. It's styling alone is evidence of its quality, functionality, and durability. Details such as the grooved water tank or the high-quality, chrome-plated cup grille perfectly complement the clean, harmonious design of the E8.
Jura Glass Milk Container
The Jura Glass Milk Container makes an indispensable addition for all coffee lovers who like to spoil their family and guests from time to time with a trendy flat white, latte macchiato or cappuccino. Perfectly harmonized with the typical lines of JURA design, it is easy to store in the refrigerator and connect up to the coffee machine as and when required. The milk lance is connected at just the right height to allow the milk to be drawn in and frothed with ease. The container holds up to 0.5 liters and is dishwasher-safe.
Milk Flow
The milk pipe is connected to the cover and preparation can be started. The simple plug connections ensure that the route the milk follows is totally clean. The outer area of the milk pipe, which is often dirty, never comes into direct contact with the milk.
High Quality
The high-quality glass container and the stainless steel milk lance are ideal for storing milk as they are taste-neutral.
Easy to Store
The glass milk container is very manageable and can be easily stored in the refrigerator door.
Easy to Clean
Since they have a smooth surface and are suitable for dishwashers, glass and stainless steel are nice and easy to clean.
Ratings and reviews
Jura E8 Automatic Coffee Machine (Piano Black) with Glass Milk Container Bundle
Jura E8 Automatic Coffee Machine (Piano Black) with Glass Milk Container Bundle
---