Kreg Pocket-Hole Screw Project Kit in 5 Sizes five screws
Kreg Pocket-Hole Screw Project Kit in 5 Sizes 1-inch, 1.25-inch and 2.5-inch
Kreg Pocket-Hole Screw Project Kit in Five Sizes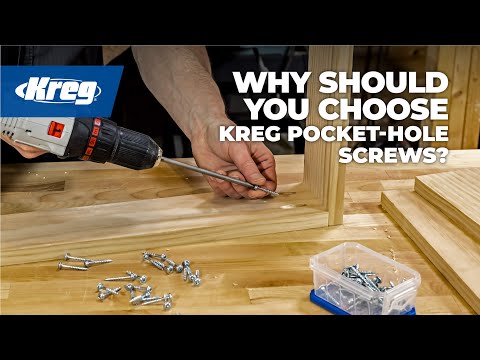 Product highlights:
Contains 675 screws in total
Contains 5 of the most-used popular screws
Square-drive prevents bit slipping while driving
Flat-bottom head seats firmly in pocket hole
Smooth shank draws the joint together
Self-tapping tip drills its own hole without splitting
Comes in a durable easy-to-carry case
Great starter kit for those new to Kreg joinery systems
Pay over time for orders over $300 with Affirm.
---
---
---
Need help deciding?
Contact us right now!
Call or chat with one of our experts.
In the box
Kreg Pocket-Hole Screw Project Kit in Five Sizes
Kreg Pocket-Hole Screw Project Kit in Five Sizes
150 x SPS-F1 (1-Inch) screws
150 x SPS-C1 (1-Inch) screws
150 x SML-F125 (1 1/4-Inch) screws
150 x SML-C125 (1 1/4-Inch) screws
75 x SML-C250B (2 1/2-Inch) screws
Kreg Pocket-Hole Screw Project Kit in Five Sizes
The Kreg Pocket-Hole Screw Project Kit contains five of the most popular screws, with 675 in total. It is a great starter kit for anyone new to Kreg Joinery. The Kreg Self-tapping Pocket-hole Screw Kit contains five screw types, two fine and three coarse.
Square-Drive Prevents Bit Slipping While Driving
When you're building a project, there are few things more aggravating than having your driver bit slip, spin, and strip out the screw head. All too often, that leaves you with a screw you can't drive the rest of the way in or back out, so you're stuck. Kreg Screws have a square-drive head that works with a #2 square drive bit to drive screws without the driver slipping. That means you can drive every screw completely, quickly, and with confidence.
Flat-Bottom Head Seats Firmly in Pocket Hole
Ordinary woodworking screws and drywall screws have a head with a conical shape on the underside. The head on a Kreg Screw is perfectly flat on the bottom. That flat shape mates perfectly with the flat pocket in a Kreg pocket hole. So, when you drive these Kreg pocket hole screws into the pocket hole, the force is applied straight toward the screw tip, presses evenly on the pocket, and holds the joint tightly together, without deforming the pocket, which could split the wood.
Smooth Shank Draws the Joint Together
The threads on a Kreg Screw stop partway up the screw shank, which leaves a smooth area below the screw head. It's there for good reason. When you drive the screw in, the threaded portion grabs into the workpiece you're attaching to, pulling the screw in. The other piece glides freely over the unthreaded part of the screw, allowing that piece to pull tightly against the mating piece - without interference from unnecessary threads.
Self-Tapping Tip Drills Its Own Hole Without Splitting
When you assemble a joint with Kreg Screws, the pocket hole is all you have to drill. There's no need for a pilot hole in the mating piece. That's because Kreg Screws have a self-tapping tip that 'drills' its own hole, so the screw drives in quickly and easily without splitting the wood, like ordinary screws often do. This makes assembly much easier, too, since you don't have to worry about whether your pilot hole will line up correctly.
Prop 65 warning: This product contains chemicals known to the State of California to cause cancer and birth defects or other reproductive harm. Learn More
Ratings and reviews
Kreg Pocket-Hole Screw Project Kit in Five Sizes
Kreg Pocket-Hole Screw Project Kit in Five Sizes
---