CF081FR.jpg
CF081FR_Alt.jpg
CF081FR_Alt5.jpg
CF081FR_Alt3.jpg
CF081FR_Alt4.jpg
CF081FR_Alt2.jpg
CF081FR_Alt6.jpg
Ninja CF081 Coffee Bar with Glass Carafe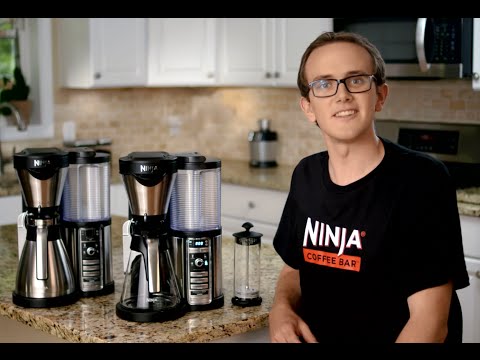 Product highlights:
Choice of pod-free single serve or 43oz carafe brew
Auto-iQ function - Choose your size and drink specifics
Programmable delay brew function - Fresh coffee anytime
Ninja Frother for latte, cappuccino and iced blended drinks
Utilizes advanced flavor enhancing technologies
Pay over time for orders over $300 with Affirm.
---
---
---
Need help deciding?
Contact us right now!
Call or chat with one of our experts.
In the box
Ninja CF081 Coffee Bar with Glass Carafe
Ninja CF081 Coffee Bar Brewer
43 oz. Glass Carafe
Ninja Easy Frother
Removable Water Reservoir
90-day warranty
Ninja CF081 Coffee Bar with Glass Carafe
Enjoy a great tasting cup of coffee in the comfort of your home with the Ninja CF081 Coffee Bar with Glass Carafe. Designed to deliver better tasting java, the machine is chock-full of technologies that cater to your taste and needs. Whether you decide to brew a cup or a carafe, the Coffee Bar offers choices galore: pick a richness level, a brew type, hot or cold drink and the size of your brew. Besides Classic and Rich options, this versatile brewer presents specialty brews and comes with a milk frother to enhance your experience. Use the Delay Brew function and you'll be greeted with a fresh coffee aroma anytime.
Flavor Extraction
Ninja's patent-pending Advanced Thermal Flavor Extraction Technology unlocks the full flavor potential of your favorite ground coffee presenting hot, great-tasting brew with variable levels of richness. Classic Brew provides a smooth, balanced flavor, while Rich Brew's intense flavor stands up to milk, creamers, and flavorings. The Over Ice Brew setting delivers perfect iced coffee that never tastes watered-down.
Ninja Auto-iQ One-Touch Intelligence
With Ninja's Auto-iQ One-Touch Intelligence function you choose your drink size and specifics of your java. Brew directly into your favorite cup, travel mug or make a half carafe or full carafe. At the touch of the brew button, Thermal Flavor Extraction enables you to dial up flavor richness from Classic Brew to Rich Brew to Over Ice Brew in the size you want. You can also select Concentrated Coffee for hot and frozen blended specialty coffeehouse style drinks:
Classic: Smooth, balanced flavor from your favorite coffee.
Rich: Richer, more intense than Classic, but not bitter coffee flavor that stands up to milk/cream.
Over Ice: Specially designed to brew hot over ice to lock in flavor for a freshly brewed iced coffee that is not watered down.
Specialty: Super-rich concentrate designed to create hot milk-based, iced, and frozen blended coffeehouse-style drinks.
Ratings and reviews
Ninja CF081 Coffee Bar with Glass Carafe
Ninja CF081 Coffee Bar with Glass Carafe
---