e178ad47257a9bb8d9e1b6d0fa3e626402f15e444c6d992770889fbadda13c25-6c067453dd84efbb.jpg
921acde5c31849df6758db604c014e034305ac854138ad02c6b3d8383c238e1c-04111e996f95d7f5.jpg
f52fa941de09b710325025976befad7c26ee2bdd28f26ca162d5c403e4784ed1-aa69c312851def38.jpg
22dce26f1fe280101b4e1fa127396c9feab098ea04171b11e5db1037edff0315-e6b64ae9cea4e8cd.jpg
6b9d6ddb0bac52a5f00de98b5388a907fb08964d35d5b0f90047fe4eb5b87626-9151549dbda4dc78.jpg
0f07d3ae7f1f48735230981de96e2de67b5ce86bc82ede49c5a7bc1b37024d00-42b94a92df8341d1.jpg
Pizzacraft Pizzeria Pronto Outdoor Pizza Oven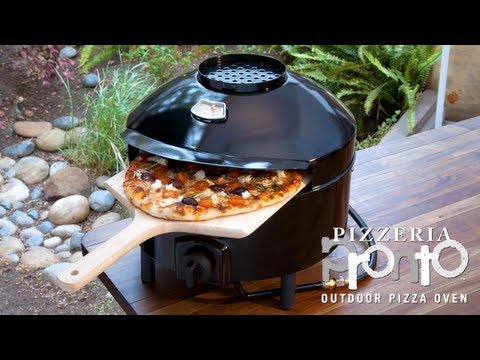 Product highlights:
Cooks a pizza in 5 minutes
Preheats in only 10 minutes
Dual-layer, interlocking cordierite pizza stone
Heat-diffusing hollow-core ensures an evenly-baked crust
Reflective heat shield cooks toppings simultaneously
Moisture vent at the top of the oven prevents sogginess
Reaches cooking temperatures of 700-degree F
Incredibly portable and perfect for tailgating and camping
Runs on propane
Pay over time for orders over $300 with Affirm.
---
---
---
Need help deciding?
Contact us right now!
Call or chat with one of our experts.
In the box
Pizzacraft Pizzeria Pronto Outdoor Pizza Oven
Pizzacraft Pizzeria Pronto Portable Outdoor Pizza Oven
Pizzacraft Pizzeria Pronto Outdoor Pizza Oven
The Pizzeria Pronto is Pizzacraft's deluxe outdoor pizza oven that will change pizza night forever! It's lightweight, portable, and safe on any surface. It's incredibly easy to use. Simply hook it up to a propane tank, let it pre-heat for 10 minutes, and you're ready to go.
Wonderful Addition to Any Tailgate Party
The Pizzeria Pronto reaches cooking temperatures of over 700-degree F and cooks a pizza in only 5 minutes. This outdoor portable pizza oven is perfect for tailgating, camping, or your regular family pizza night. You will never order delivery again when your Pizzeria Pronto makes homemade pizza fast, easy, and delicious!
Additional Features
The Pizzeria Pronto comes with two 14-inch baking stones. ThermaBond stones are manufactured with Pizzacraft's exclusive ThermaBond technology; specially formulated to eliminate thermal shock breakage, promote even heat distribution and retention, and guaranteed durability for consistent cooking on the oven or grill. Unlike PizzaQue, the Pizzeria Pronto features a heat containing visor and stainless steel reflection plate, resulting in a 20 percent decrease in cooking time. The Pizzeria Pronto rain cap (included) also holds a 1 lb propane tank when inverted.
Ratings and reviews
Pizzacraft Pizzeria Pronto Outdoor Pizza Oven
Pizzacraft Pizzeria Pronto Outdoor Pizza Oven
---