Fuji Spray Q5 Platinum GXPC Quiet HVLP Spray System
Fuji Spray Q5 Platinum GXPC Quiet HVLP Spray System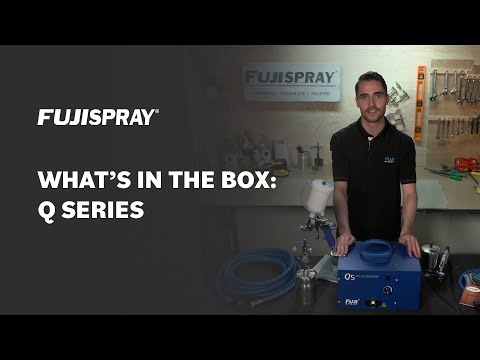 Product highlights:
50% quieter operation than standard turbine
Overspray reducing variable speed control dial
Powerful 9.5 PSI for perfect atomization
Heat Dissipation Chamber - Increases longevity
GXPC Gravity Spray Gun sprays at any angle
Ideal for fine-finishing of cabinets, furniture etc
Starting at $151/mo or 0% APR.
---
---
---
Need help deciding?
Contact us right now!
Call or chat with one of our experts.
In the box
Fuji Spray Q5 Platinum GXPC Quiet HVLP Spray System
Fuji Spray Q5 Platinum GXPC Quiet HVLP Spray System

5-Stage Q Platinum Series Turbine (9.5 PSI)
Professional Grade Non-Bleed Spray Gun
25ft Heavy Duty Hose
Quick Connect Coupling and Air Control Valve
#4 Ford Vscosity Cup
Wrench and Cleaning Brush
6' Whip Hose
19pc Spray Gun Cleaning Kit
Extra Turbine Filters
Detailed User manual
Fuji Spray Q5 Platinum GXPC Quiet HVLP Spray System
For the best spray experience fine-finishing painting projects use Fuji Spray Q5 Platinum GXPC Quiet HVLP Spray System. Considered the quietest operating turbine on the market today, the Q PLATINUM Series is the ultimate tool in terms of power and control allowing you to focus on what really matters - the quality of your work. The patented noise reduction technology coupled with the unique Heat Dissipation Chamber makes the Q-Series stand out in the industry. The Q5 Platinum Series features maximum psi/cfm adjustment for perfect coating atomization and overspray reduction.
Q is for Quiet
While standard turbines may cause hearing lose over period of time, the Fiji Spray has reduced the turbine noise levels by over 50 percent. In fact, the Fuji Spray Quiet turbines are so quiet that the low hiss of air passing through the spray gun when the trigger is engaged is more noticeable than the turbine.
Heat Dissipation Chamber
Fuji Spray has designed a unique method of removing any heat build up from the turbine case. Excess heat is channeled to a Heat Dissipation Chamber located at the rear of the case. Since the hot air is dissipated evenly through an optimum surface area of 60 holes, there is no added hiss or loud whistling noise. There is also no blowing around of debris. The benefits of a cooler running unit results in a longer life for your turbine motor compared to standard turbines.
GXPC Gravity Spray Gun
The G-XPC gravity, non-bleed spray gun features side-mounted 400cc gravity cup and tilt feature which allows the operator to spray in any direction including upwards. Exclusive side mounted Fan Pattern Control allows fan size adjustments and comes installed with a 1.4mm air cap, which is best for fine finishing with lacquers, enamels, polyurethanes, latex, water-based coatings and more. The G-XPC is especially popular with bathtub refinishers and perfect for cabinets/furniture and automotive.
Prop 65 warning: This product contains chemicals known to the State of California to cause cancer and birth defects or other reproductive harm. Learn More
Ratings and reviews
Fuji Spray Q5 Platinum GXPC Quiet HVLP Spray System
Fuji Spray Q5 Platinum GXPC Quiet HVLP Spray System
---