West System 105 Epoxy Resin (1 qt) 1 quart
West System 105 Epoxy Resin (1 qt) works with 200 series hardeners
West System 105 Epoxy Resin (1 qt)
West System 105A Epoxy Resin (32 fl oz)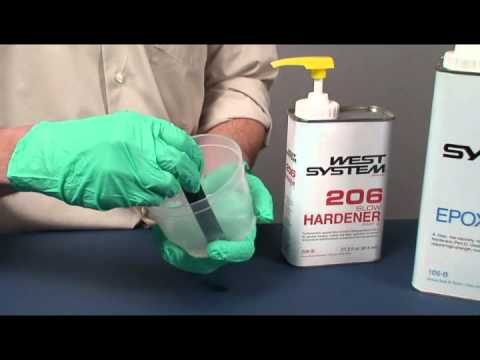 Product highlights:
Basic ingredient of all West System Epoxy compounds
Clear, low-viscosity resin formulated for hardeners
Used for composite construction and repairs
For high-strength, moisture-resistant coating, and filling
Cure in varied temperatures for moisture-resistant solid
Excellent adhesive when mixed at proper ratio with hardener
Designed to wet out and bond to composites and metals
Use fillers to bridge gaps; cure it to sand and shape
With roller applications, it can self-level without fish-eyeing
Multiple coats create superior moisture barrier and paint base
Pay over time for orders over $300 with Affirm.
---
---
---
Need help deciding?
Contact us right now!
Call or chat with one of our experts.
In the box
West System 105A Epoxy Resin (32 fl oz)
West System 105A Epoxy Resin (32 fl oz)
West System 105A Epoxy Resin (32 fl oz)
This 105A Epoxy Resin is the base material on which all West System 105 System epoxy compounds are built. It is a clear, pale yellow, low-viscosity liquid epoxy resin. Blended with hardener at the proper ratio, it cures to a hard, solid plastic with superior physical properties. Based on which hardener you choose, it cures at a wide range of temperatures. Once cured, it forms a high-strength solid that is functionally waterproof, and highly resistant to moisture. The West System 105A Epoxy Resin is designed to wet out and bond with wood fiber, fiberglass, and reinforcing fabrics. It also bonds well with a variety of metals when mixed at the proper ratio with a West System Epoxy hardener.
No Strong Solvent Odor
105 Epoxy Resin is formulated without volatile solvents and does not shrink after curing. It has a relatively high flash point and no strong solvent odor, making it safer to work with than polyester or vinylester resins. Resin viscosity is approximately 1000 centipoise (cP) at 72-degree-F (22-degree-C).
Thickening Epoxy
Modifying this epoxy with West System fillers creates an excellent structural adhesive or fairing compound. You choose the filler that suits your project. Epoxy thickened with adhesive (high-density) fillers makes structural bonds, bridges gaps, and fills voids. Epoxy thickened with fairing (low-density) fillers is easily sanded and shaped after it cures.
Great Coating Material
This epoxy is also a great coating material. With roller applications, it has excellent thin film characteristics, allowing it to flow out and self-level without fish-eyeing. By combining it with blush-free 207 Special Clear Hardener (sold separately), you can create a natural finish when coated with varnish. This is a good alternative that builds mil thickness quickly, saving time and effort. The results are long-lasting.
Epoxy's Cure Stages
Mixing 105 Epoxy Resin with a hardener begins a chemical reaction that transforms the combined liquid ingredients to a solid. This period of transformation is the cure time. As it cures, epoxy passes from the liquid state, through a gel state, before it reaches a solid state.
Batch Size and Cure Speed
You need to know that in larger quantities, epoxy cures much faster. This is because epoxy generates heat as it cures and also cures faster at higher temperatures. This snowball effect increases until the epoxy cures—which in very large batches could take only a couple of minutes. Large pots of mixed epoxy can generate enough heat to cause a runaway exothermic reaction. This includes fumes, melting the mixing cup or even starting a fire. Spreading epoxy thin allows the heat to dissipate and slows its cure.
Epoxy Casting
West System Epoxy has a very low percentage of shrinkage. In fact, the standards used to calculate shrinkage of other resins (polyester and vinyl ester) aren't used with West System because it shrinks so little to measure that way. When epoxy is used to fill holes drilled into wood, it will soak into the end grain. This might look like shrinkage, but it's not.
West System Epoxy
Based on 105 Epoxy Resin, West System Epoxy is a versatile low-viscosity epoxy system. It is used for boat building, composite construction and repairs that require high-strength, waterproof coating, bonding, and filling. It readily wets out fabrics and porous materials, and is easily modified for a wide range of working conditions and applications. West System Epoxy is the world's most reliable and widely used marine epoxy.
Clamping Force
Unlike traditional wood glues, West System Epoxy is stronger than wood. Because of this, it is beneficial to have some epoxy between the objects you are gluing together whether they are wood, fiberglass, or other materials. As long as the epoxy is contacting the entire surface of both substrates, no clamping pressure is needed.
Ratings and reviews
West System 105A Epoxy Resin (32 fl oz)
West System 105A Epoxy Resin (32 fl oz)
---