Jura Z6 Automatic Coffee Machine (Aluminum) with Milk Container, Filter, Cleaning Tablets and Cup and Saucer Bundle
Jura 15093 Automatic Coffee Machine Z6, Aluminum Includes Milk Container, Smart Filter, Cleaning Tablets & 2 Cups
Jura Z6 Automatic Coffee Machine
Jura Glass Milk Container (16.9 oz.)
Update International 3 oz. Ceramic Tiara Espresso Cup and Saucer
Jura CLEARYL Smart Filter Cartridge
Capresso 9-Pack Decalcifying Tablets for All Jura-Capresso Automatic Coffee Centers
Jura Z6 Automatic Coffee Machine (Aluminum) with Milk Container, Filter, Cleaning Tablets and Cup and Saucer Bundle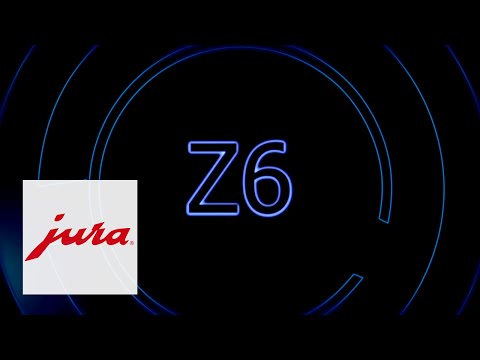 Product highlights:
Incredible performance into compact dimensions
Pulse Extraction Process (P.E.P.)
Delivers possibly the best espresso at a touch of button
Innovative nozzle technology
Switches from milk to milk foam fully automatically
Self-explanatory, easy and intuitive to use
Wireless link with RFID technology
Control elements conveniently accessible on the front
---
Need help deciding?
Contact us right now!
Call or chat with one of our experts.
In the box
Jura Glass Milk Container
Capresso 9-Pack Decalcifying Tablets for All Jura-Capresso Automatic Coffee Centers
Jura CLEARYL Smart Filter Cartridge
2 X ChefWave 3oz Ceramic Tiara Espresso Cup and Saucer Set (2-pack)
Jura Z6 Automatic Coffee Machine (Aluminum) with Milk Container, Filter, Cleaning Tablets and Cup and Saucer Bundle
Coffee lovers, rejoice! Lifestyle By Focus brings to you this exquisite bundle to help you kick-start your mornings. It includes the Jura Z6 Automatic Coffee Machine, two 3-ounce ceramic tiara espresso cups and saucers, Capresso decalcifying tablets, CLEARYL smart filter cartridge, and a glass milk container. This Jura coffee machine sets the bar high with impressive design and Swiss standard precision for outstanding results. Alongside a true and authentic tasting cup of specialty coffee, its exquisite design and quality craftsmanship brings luxury, elegance and sophistication to your countertop.
Jura Glass Milk Container
The Jura Glass Milk Container makes an indispensable addition for all coffee lovers who like to spoil their family and guests from time to time with a trendy flat white, latte macchiato or cappuccino. Perfectly harmonized with the typical lines of JURA design, it is easy to store in the refrigerator and connect up to the coffee machine as and when required. The milk lance is connected at just the right height to allow the milk to be drawn in and frothed with ease. The container holds up to 0.5 liters and is dishwasher-safe.
Milk Flow
The milk pipe is connected to the cover and preparation can be started. The simple plug connections ensure that the route the milk follows is totally clean. The outer area of the milk pipe, which is often dirty, never comes into direct contact with the milk.
High Quality
The high-quality glass container and the stainless steel milk lance are ideal for storing milk as they are taste-neutral.
Easy to Store
The glass milk container is very manageable and can be easily stored in the refrigerator door.
Easy to Clean
Since they have a smooth surface and are suitable for dishwashers, glass and stainless steel are nice and easy to clean.
Capresso 9-Pack Decalcifying Tablets for All Jura-Capresso Automatic Coffee Centers
Get the great brew from your Capresso Espresso and Coffee machines by regularly cleaning the system with these specially formulated decalcifying tablets. This pack of 9 cleaning tablets works for Jura-Capresso Fully Automatic Coffee Centers (models: E8, F Series, S Series and Z5..
Jura CLEARYL Smart Filter Cartridge
The Jura CLEARYL Smart Filter Cartridge for Jura I.W.S. automatic coffee machines revolutionizes water filtration for best-tasting coffee. Its Intelligent Water System (I.W.S.) removes chlorine, lead, aluminum, and copper, while preventing scale build up. Thanks to the modern RFID technology, the cartridge also communicates directly with the coffee maker, collecting information about filter use and activating the appropriate modes. Once exhausted, it alerts the user to ensure optimal effectiveness.
Pure Water for Exquisite Coffee
CLEARYL Smart works according to the professional up-flow principle and always filters exactly the amount of water required for each preparation. This makes efficient use of the filter. Standing pre-filtered water is never left in the water tank, where it could quickly become unhygienic. As well as limescale, it filters out heavy metals and substances that impair smell and taste, such as chlorine. Minerals that are important for health are retained in the water. The result: pure water for perfect specialty coffees and optimum protection against limescale inside the coffee machine.
Automatic Filter Detection
To enable the filter and coffee machine to communicate, Jura uses modern RFID technology. Any machine fitted with the Intelligent Water System recognizes when a filter is inserted, automatically switches to filter mode and starts the rinsing process. When the filter capacity is nearly used up the machine prompts the user to change the filter. If the filter is not changed, the machine activates descaling mode. After a certain amount of use, the user is prompted to descale the machine. This can only be done when the filter is removed, so there is no more risk of user error resulting from misunderstandings.
ChefWave 3oz Ceramic Tiara Espresso Cup and Saucer Set (2-pack)
The ChefWave 3oz Ceramic Tiara Espresso Cup and Saucer Set (2-pack) is a perfect matching set for entertaining guests or completing your morning routine.
Ratings and reviews
Jura Z6 Automatic Coffee Machine (Aluminum) with Milk Container, Filter, Cleaning Tablets and Cup and Saucer Bundle
Jura Z6 Automatic Coffee Machine (Aluminum) with Milk Container, Filter, Cleaning Tablets and Cup and Saucer Bundle
---