NuWave PIC FLEX Precision Cooktop and 3-Quart Forged Grill Pan with Lid
NuWave PIC FLEX Precision Cooktop and 3-Quart Forged Grill Pan with Lid
Nuwave PIC FLEX Precison Cooktop
Nuwave 3-quart Forged Grill Pan with Lid
Nuwave PIC FLEX Precison Cooktop
NuWave PIC FLEX Precision Cooktop and 3-Quart Forged Grill Pan with Lid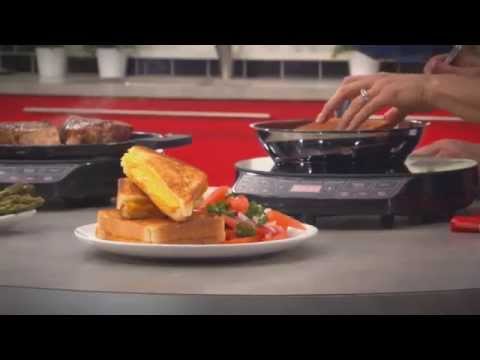 Product highlights:
45 temperature settings in 10-degree increments
Expansive temperature range between 100°F and 500°F
Set to 600, 900 or 1300 watts with variable wattage control
100 hours of memory, Delay and Sear functions
Know precise temperature you're cooking within 5 degrees
Wastes virtually no energy and saves you money
Control your cooking oil temperature perfectly
Pay over time for orders over $300 with Affirm.
---
---
---
Need help deciding?
Contact us right now!
Call or chat with one of our experts.
In the box
Nuwave 3-quart Forged Grill Pan with Lid
NuWave PIC FLEX Precision Cooktop and 3-Quart Forged Grill Pan with Lid
The NuWave Precision Induction Cooktop (PIC) Flex offers precise temperature control with the simple press of a button. Lifestyle by Focus bundles this cooktop with a grill pan, made from aluminum and is lightweight and easy to handle.
Nuwave 3-quart Forged Grill Pan with Lid
Made from premium forged aluminum, this pan is sturdy while remaining lightweight and easy to handle. Featuring an induction-ready stainless steel base, this fry pan is compatible with electric and gas cooktops, induction cooktops such as the NuWave PIC and is oven-safe as well. With two layers of non-stick coating, titanium infused ceramic top coat and the diamond infused ceramic base coat makes the pan less porous, allowing even heating for perfectly cooked food every time. This versatile 3-quart forged grill pan gives you everything you need to cook healthy, delicious meals without any extra fat or oil. Featuring built-in ridges, this versatile, eco-friendly pan lets you get those great grill marks on your favorite meats and vegetables without adding unhealthy fat and oil.
Ratings and reviews
NuWave PIC FLEX Precision Cooktop and 3-Quart Forged Grill Pan with Lid
NuWave PIC FLEX Precision Cooktop and 3-Quart Forged Grill Pan with Lid
---