Fuji Spray Semi-PRO 2 HVLP Spray System
Fuji Spray Semi-PRO 2 HVLP Spray System
Fuji Spray Semi-PRO 2 HVLP Spray System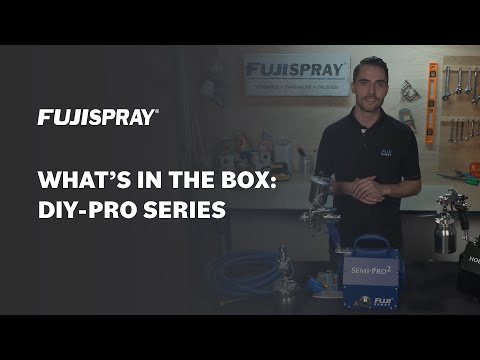 Product highlights:
Entry level spray paint system
Powerful 2 Stage Turbine (5.0 PSI)
Adjustable spray fan pattern
Convertible spray gun configuration
Quick release, 1 quart paint cup
Lightweight and portable
---
Need help deciding?
Contact us right now!
Call or chat with one of our experts.
In the box
Fuji Spray Semi-PRO 2 HVLP Spray System
Fuji Spray Semi-PRO 2 HVLP Spray System

2-Stage DIY-PRO Series Turbine (5.0 PSI)
M-Model Bottom Feed Non-Bleed Spray Gun
1 Qt. Aluminum Pressurized Cup
1.3mm Air Cap Set Installed
Rear Situated Fan Pattern Control
25-Feet Hi-Flex Hose
Quick C,3
Connect Coupling and Air Control Valve
Detailed User Manual
#4 Ford Viscosity Cup
Wrench and Cleaning Brush
Fuji Spray Semi-PRO 2 HVLP Spray System
To meet the growing demand of the DIY market, Fuji Spray has introduced the most powerful 2-stage system on the market in its price range. The Fuji 2202 Semi-PRO 2 HVLP Spray System and Pro Accessory Kit offers professional features such as non-bleed gun, pattern adjusting Fan Control Knob, super-powerful 1400 watt 2-stage bypass motor in a metal turbine case and a handy gun holder. While most HVLP Systems typically feature low wattage motors that are under-powered for most spraying, Fuji's 1400 watt 2-stage Bypass Motor in Metal Turbine Case with handy Gun Holder can handle any type of coating.
Versatile and Reliable
Though small, the Semi-Pro 2 is reliably potent and conveniently versatile - the perfect combination for a serious hobbyist. The spray system includes a 1000 cc bottom feed cup, but is convertible to be used with a gravity cup as well. Six different air cap set sizes are compatible with the machine to match the needs of any project you take on. The rugged metal turbine case and stainless steel needle, nozzle, and fluid passage construction ensure reliable durability.
Prop 65 warning: This product contains chemicals known to the State of California to cause cancer and birth defects or other reproductive harm. Learn More
Ratings and reviews
Fuji Spray Semi-PRO 2 HVLP Spray System
Fuji Spray Semi-PRO 2 HVLP Spray System
---