Zojirushi Home Bakery Maestro Breadmaker
BB-SSC10_02.jpg
Zojirushi Home Bakery Maestro Breadmaker
BB-SSC10_04.jpg
BB-SSC10_05.jpg
Zojirushi BB-SSC10 Home Bakery Maestro Breadmaker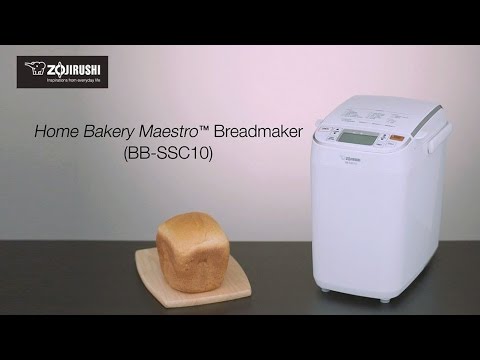 Product highlights:
Small footprint versatile machine
Auto Add dispenser for fruit or nuts
Double heaters create light and airy crust
Easy to read LCD control panel with clock
15 course selection includes Gluten Free
Bake 1-lb loaves or prepare dough and jam
---
Need help deciding?
Contact us right now!
Call or chat with one of our experts.
In the box
Zojirushi BB-SSC10 Home Bakery Maestro Breadmaker
Zojirushi BB-SSC10 Home Bakery Maestro Breadmaker
Zojirushi BB-SSC10 Home Bakery Maestro Breadmaker
Savor the fine variety of breads made right in your kitchen. The Home Bakery Maestro Breadmaker by Zojirushi offers a selection of 10 bread settings in addition to dough and jam options. You can even customize the knead, rise and bake time thanks to the Homemade memory settings to create unique recipes that delight your taste buds. Small, but mighty this versatile kitchen appliance features convenient carry handle and non-stick baking pan and kneading blade.
Versatile
The easy-to-read LCD control panel lets you pick the setting of your choice. The menu settings include the White, European, Quick White, Whole Wheat, Quick Whole Wheat, Multigrain, Gluten Free, Salt Free, Sugar Free and Vegan breads. Additionally, Bread/Pizza Dough, Pasta Dough, Cake and Jam options are available as well. Your choices though are even more extensive considering the customizable Homemade memory settings, quick course bake and the option of 13 hour delayed timer.
Practical Design
With the small footprint of only 9 x 12.5 inches, the Home Bakery Maestro is easy to store and simple to fit on your counter or the kitchen table. Use the convenient carry handle for easy transport in between uses. The machine interior features an easy to clean baking pan, blade and a removable and washable Auto Add dispenser.
Ratings and reviews
Zojirushi BB-SSC10 Home Bakery Maestro Breadmaker
Zojirushi BB-SSC10 Home Bakery Maestro Breadmaker
---